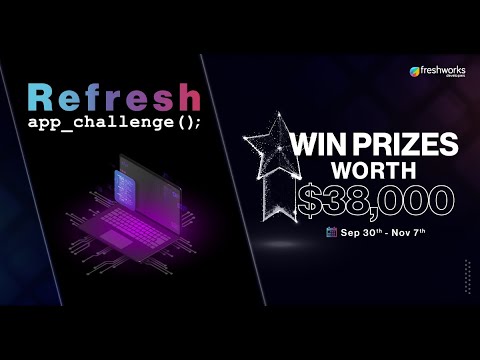 To achieve great things, two things are needed; a plan, and not quite enough time."
– Composer Leonard Bernstein
App challenge runs for nearly 6 weeks.
Week 1 - Ideation and feasibility
What is the killer idea that will stick both with our judges and with the users who start using your app from the Freshworks Marketplace? What are the pain points users of Freshdesk or Freshservice really want to be addressed? Can this idea really come to life on the Freshworks Platform? Do I have enough time to do it all?
These are the questions you want to chase down as you look to get off to a great start. Ideas are better fed by inspiration, and so we put together some for you to browse and inspire yourself…
As an idea starts taking shape, try to quickly imagine what building blocks this might need. Are the relevant APIs available? What platform features fit nicely, and what don't? Perhaps try a quick prototype or two to convince yourself. Or connect with our developer community. Or reach out to a Developer Advocate.
What are you waiting for? Let's start right away!
Week 2 - Sharpen the scope and nail the UX
With a feasible idea under your belt, start to finalize the details of what you really want your user to experience and go "Wow!". The details should help you decide what is really a must-have versus what is just nice-to-have.
This is also a great time to put your sketching skills to use - try to picture how the user will experience your app and identify the relevant visual components required.
Check out our Crayons library to furnish your app with the Freshworks Design System.
This week is absolutely the right time for you to start coding!
Open the Starter Kit and equip yourself with the tools you need.
Week 3 - Keep Chipping Away
You are starting to see the first shots of your hard work. Some things just work. Others require more persistence. This is the time to keep yourself going - don't lose sight of the target!
It is easy to get tempted to add another new feature you thought of. Or polish something a little extra. This is the time to remind yourself you can work over iterations, but right now it is all about the Minimum Viable Product (MVP). Let's revisit the new feature and the extra polish in the next iteration.
If you get blocked, leverage our helpful community!
Week 4 - Iterate and improvise
You are close to having an MVP! Start ironing out the rough edges. Giving the app the finished feel. Did you ensure exceptions are properly handled? How about any scale challenges you can foresee?
Have you tested the app yet? Squash those nasty bugs before they show up in the hands of a user. The code coverage feature in fdk run will give you confidence if you have tested a large part of your app. Test your app in production as well for extra confidence. After all, this is where you will demo your app and where users will consume it.
Show the app to your friends and contacts, and gather as much early feedback as possible.
As you approach the finish line, review the submission requirements one more time. Check out the Freshworks app review process as well. Have one of your team members prepare all the content you will need to submit your app for review.
Week 5 - The Final Week
The light at the end of the tunnel is visible! You have a functioning, stable app and you are proud of yourself. You should be!
Start a draft submission on the Freshworks app management portal as well as on devpost, and capture all the details you know at this point.
Review the Judging Criteria and prepare your pitch. Ensure you detail your project as you complete your submission on Devpost.
There's still time for that one nifty and quick feature, maybe? There's still room to apply a nice finish, perhaps? Go ahead and make this app something you are proud to put your name on!
Once you are ready, review all the requirements one last time and submit with confidence!