MY ISSUE:
1- I am facing the validation error 400 on HTTP get request , but if i update or Installing app first time it validate successful and then when i go back to settings to view my configuration and want to update it validates failed. This happening on internal API (e.g https://api.freshchat.com/v2/channels) & any 3rd party API.
2- It works on my local environment , In fact i hit multiple times my validation process after and before the installation it works perfectly.
1- Image Attached that shows console error.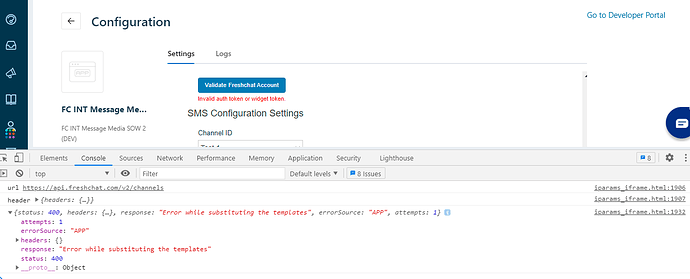 MY TRIES:
1- I visit community for the solution i got multiple answers on same issue. I tried, but unfortunately didn't get the positive response.
2- Also run in INCOGNITO to avoiding cache but issue still persists.
My CODE:
Same request method goes with 3rd party API & issue persists on both API's.
var url = https://api.freshchat.com/v2/channels;
let options = {
headers: {
"Authorization": Bearer ${fcToken},
"Content-Type": "application/json"
}
};